TRANSLUCENT - INDIGO
Lens Width: 50mm
Lens Height: 40mm
Bridge Width: 15mm
Arm Length: 135mm
All our color lenses provide full UV400 protection against UVA and UVB rays.
Every item comes in its own microfiber bag with custom artwork for the color, and every order includes one beautifully designed informational postcard.
Customer Reviews
Write a Review
Ask a Question
Filter Reviews:
glasses
color
indigo
pair
world
everything
purple
customer service
shades
ones
Indigo Daydream
Let me just begin by saying that these are my favorite color of Rainbow OPTX sunglasses I own! Seeing the world in this gorgeous violet blue hue is incredibly relaxing--they are perfect for a bold outfit at music festivals, chilling on the beach, or even a leisurely stroll outside in nature on a bright summer day. They match almost everything I own and I get compliments on them wherever I go. I enjoy the full coverage that the Transparent style gives to my eyes and knowing that the UV protection is covering more of my face. Friends of all genders have asked me if they can borrow this pair and I'm not lying when I say they all looked fabulous in them. These shades are a terribly flattering color and look great on a variety of face shapes and sizes. Thanks Rainbow OPTX for helping me live life colorfully.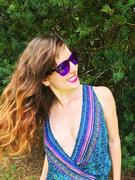 10/19/2020
Elisabeth .
United States
Love these!
Slipping these high quality sunglasses on was a journey into a new attitude! One can still make out traffic signals and what real colors are there, but the purple is an overlay that makes wearing them so enjoyable. Highly recommend.
10/12/2020
Michelle C.
United States
Indigo and Violet
I love both the indigo and violet glasses! They truly make the world look more beautiful than it already is, and it's fun to have a different perspective of it when wearing these glasses. I also love the fact that they give you a free pair w any order. Like everyone else says, I want these in every color now just to see what differences they make. Great sunglasses!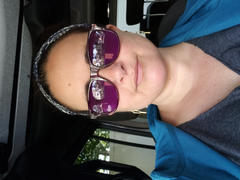 10/06/2020
Emily K. Wilson
United States
Love these!!
I have almost all the colors. I really like this indigo one and the violet. Orange is great too. Oh and magenta! Those are my favorites. They're all great. The blues are pretty chill. Red is intense. And if you're going biking in the morning and you need wind block for your eyes but you still want light, the Rose is perfect. And on evening rides I like the yellow. Still waiting on green... :)