TRANSLUCENT - ROSE
Rose pink, being the color of love, relates to the heart chakra. Rose can be used to awaken compassion, love, and purity. It eases conditions of anger and feelings of neglect. It can be used in meditation to discern greater truths. Rose is comforting to the emotional energies of the individual.
Every item comes in its own microfiber bag with custom artwork for the color, and every order includes one beautifully designed informational postcard.
All our color lenses are 100% UV400 protective.
NOTICE: Please exercise caution while driving or any time accurate color perception is required. Our yellow and rose lenses are light colors and great for wearing while driving, but please do not wear red, orange, green, aqua, blue, indigo, violet, or magenta while driving.
Customer Reviews
Filter Reviews:
color
colors
glasses
sunglasses
everything
life
Violet
pair
compliments
pairs
08/03/2017
Ajalee H.
United States
08/02/2017
Juliana R.
United States
08/01/2017
Pamela M.
United States
07/31/2017
Kasey O.
United States
Rose All Day
I was a little skeptical of buying a lighter color like rose, but I'm so glad I did! They're so much more than a fashion statement. Not only do they dim the glare of the sun for comfortable vision, but they also held up to the test of being worn for several hours on a face I forgot to reapply sunscreen to. While my forehead, nose, and cheeks turned a rosy pink, I'm confident in the full UV coverage protection that Rainbow OPTX advertises since my eyes and surrounding skin didn't burn in the slightest. Functionality aside, these are extremely cute to wear to summer concerts, the pool, and basically anywhere, especially while sipping a glass of rose wine! I'll add that the pink tone goes especially well with nude, taupe, and rose gold--they definitely match a lot more than I thought they would.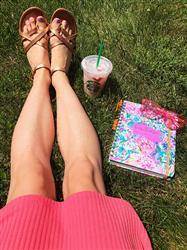 10/28/2019
Jenny
United States
PLEASE bring back the white frames
These are SO CUTE, why would you stop selling them!??? Please bring them back!!! :(