CAT EYES - INDIGO
Lens Width: 55mm
Lens Height: 50mm
Bridge Width: 15mm
Arm Length: 130mm
All our color lenses provide full UV400 protection against UVA and UVB rays.
Every item comes in its own microfiber bag with custom artwork for the color, and every order includes one beautifully designed informational postcard.
Customer Reviews
Write a Review
Ask a Question
Filter Reviews:
color
world
glasses
life
purple
pair
indigo
compliments
favorite
packaging
08/01/2020
Harriet K.
United States
Obsessed with rainbow optx!
I have four colors so far and I really do feel an affect on my mood. The indigo and aqua are my favorites. The indigo feels very balanced and the aqua calms me down. I like rose the most on cloudy days. I wound up giving away one of the freebies, yellow, because you need to have REALLY white teeth to look good in those . Just note that not all of them are sunglasses in the typical sense - my indigos are the most effective for really sunny days, I still squint a bit at the beach in aqua and rose are really just for color therapy - I even wear them inside sometimes!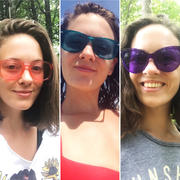 07/29/2020
Morgan
United States
Fantastic!!!
I am absolutely in love with these glasses and have purchased several pairs of them over the last couple of years. This particular style and color have been my personal favorite and definitely help add some flair and color into my life. I'm pretty rough on mine and they hold up really well considering I wear and drop them (multiple times) daily.
02/11/2020
Susan A.
United States
Sunglasses
I have multiple pairs (4 now) in various frames and colored lens. Love them all!! Even purchased a pair for my mom, who is 85 and loves them. Everything is colorful, bright and cheerful. It's liking seeing the world with a brand new perspective. Love the blues, greens and indigo best. Love my new colorful world! Thank you Rainbow OPTX!
02/05/2020
Leslie T.
United States
HAPPYHAPPYHAPPY
I love wearing the color lenses during Winter especially! They immediately lift your spirits (I know how that sounds, but it's true). Initially, the color is intense, but after a few moments your brain adjusts to it and you just think the World has always been a brighter color! The quality of the glasses is outstanding! They are of a solid construction and I expect that with the proper care, they will last for a very long time. The cat eye shape is my favorite. It's more of an oversize cat eye lens. I've also purchased the round wire shape which is larger than a John Lennon pair so they look hip without looking too small or dated. The basic shape (original sort of retro frames) are also a bit oversize. Which I personally like!!
01/26/2020
alyson d.
United States
Obsessed
Make me feel like I'm living in a calm, gorgeous dream :) 10/10 would recommend and by again!