TRANSLUCENT - AQUA
Lens Width: 50mm
Lens Height: 40mm
Bridge Width: 15mm
Arm Length: 135mm
All our color lenses provide full UV400 protection against UVA and UVB rays.
Every item comes in its own microfiber bag with custom artwork for the color, and every order includes one beautifully designed informational postcard.
Customer Reviews
Write a Review
Ask a Question
Filter Reviews:
color
lenses
colors
glasses
sunglasses
everything
indigo
pairs
things
Rainbow OPTX
Aqua flow
Love the aqua lenses! I feel cool, calm, and collected wearing them.
LOVE THESE
Seriously, as soon as I put them on I felt a calm rush over me. I even had several of my friends try them on... same thing! They are comfortable, affordable, and super cute. PLUS THEY WORK! I don't like a couple of the other colors AS MUCH as the aqua... but I will be a repeat customer for sure. Thanks RainbowOPTX!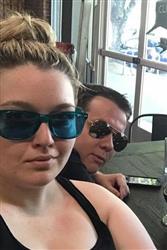 Another Blue World
These glasses are awesome! Stylish and calming! Fun to walk with. I love a blue world.
04/09/2020
justin r.
United States
Absolutely Amazing!!
I have extremely sensitive eyes and these sunglasses are PHENOMENAL! They block the sun very well even though they are light colored lenses. They really do make the world look so beautiful! They really enhance the natural light in the sky and all the landscapes. You can really see the beauty in everything. I have a medical condition with my eyes, and these still allow me to focus properly and block enough sunlight so I can still drive. I DO NOT like dark sunglasses as they tend to throw off my eyesight. I love the fit of the sunglasses. They are light, not too big for my face, don't fall off my face, don't pinch behind my ears, they don't touch on my cheeks which is a huge pet peeve of mine. I can wear these ALL day without them hurting my face. Honestly the best sunglasses I have ever owned! I bought the Translucent - Purple and Translucent - Aqua ones first. Once I wore these once I ordered the Translucent - Magenta and Translucent - Blue ones a few days later. I like this style the best because of the shape of my face. Like most people I hate wasting money and was grinding my teeth at the price. Which wasn't that bad it came down to $18.00 a pair, I am just cheap. I prayed that I wouldn't hate them and had wasted my money. I can say that it was the best money spent even though we are in a National Crisis with the Covid -19 problem. I plan on buy some of the aviators next month. I would also like you all to know that I was not asked by this company for my review. I am just so in love with these sunglasses I felt like everyone should know! These will brighten up your day in this crazy world!